Veramendi Community Update! New Builders in the Best New Braunfels Master Planned Community
January 5, 2022
Looking for new homes in New Braunfels? Veramendi has exciting news! 2022 brings two new builders to our already excellent line‑up. And we've recently completed a major flood control dam – the second in the community. This is an important component both for water control and water quality for the entire area.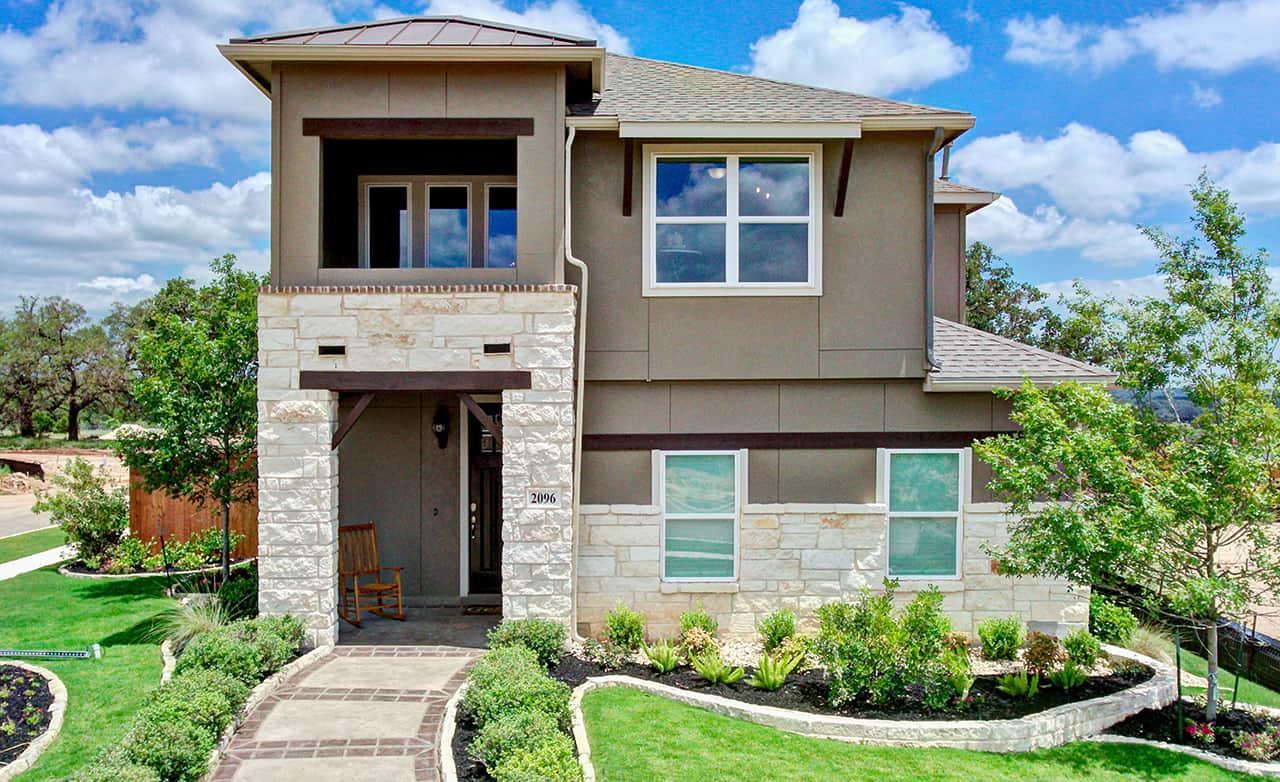 New homes in New Braunfels
In 2022, Veramendi welcomes Highland Homes and Coventry Homes to our family of builders. They join the five excellent builders already at Veramendi.
Gehan Homes – from the low $300s. Consistently recognized for exceptional design, the list of awards Gehan Homes has earned includes the 2017 Texas Association of Builders STAR Award for Volume Builder of the Year, 2013 PRISM Award for Best Product Design, and five 2016 STAR Awards. 11 floor plans from 1,400 sq. ft. – 2,300 sq. ft. 3 to 4 bedrooms, 2 to 2.5 baths, 2‑car garages.
Pulte Homes – from the upper $300s. Pulte Homes offers homes designed for how you live, backed by a warranty you can rely on. Pulte Homes' streamlined process makes it easy for you to build the home you've always wanted. 7‑floor plans from 1,739 sq. ft – 3,281 sq. ft. 3 to 5 bedrooms, 2 to 4.5 baths, 2‑car garages.
David Weekley Homes – from the $500s. David Weekley Homes is the first builder to be awarded the Triple Crown of American Home Building. This honor includes "America's Best Builder," "National Housing Quality Award" and "National Builder of the Year." 7‑floor plans from 2,249 sq. ft. – 3,332 sq. ft. 3 to 5 bedrooms, 2 to 4.5 baths, 2‑car garages.
Perry Homes – from the $460s. Perry Homes' success was built on the company's founding values, which are still upheld today: Commitment to Quality, Exceptional Customer Service, Trusted Reputation, Industry Leading Warranty Protection, Homes Designed for Living, and Unbeatable Value. 41‑floor plans from 1,800 sq. ft. to 3,200. 3 to 4 bedrooms, 2 to 3 bedrooms, and 2‑ or 3‑car garages.
Scott Felder Homes – from the high $400s. Scott Felder Homes is one of the largest producers of quality, move‑up homes in Austin and San Antonio. 11‑floor plans from 2,204 sq. ft. – 3,268 sq. ft. 2 to 5 bedrooms, 2 to 4 baths, 2‑car garages.
Veramendi's new flood control dam
As a new community in New Braunfels, Veramendi is committed to being an integral part of the Texas Hill Country. We're taking steps to protect both the people who live in the New Braunfels area and the natural resources that make this such a wonderful place to live.
In October we completed the construction of a 35‑foot‑tall earthen flood control dam stretching 950 feet with capacity to hold 20 million cubic feet of water. The dam was completed just in time to be put to the test during a large storm event, and it performed beautifully.
The new flood control dam provides two and half times the capacity of stormwater control required for all of Veramendi. While there won't be a permanent lake behind this dam, this detention facility provides a significant benefit in the protection of downtown New Braunfels, Landa Park, and the Comal Headwaters from flooding by capture and a slow release of stormwater over 24‑48 hours.
The initiative for the $9.5 million dam was a cooperative effort between the City of New Braunfels and Veramendi Development. This infrastructure is an example of the real benefits that can be achieved with genuine public/private partnership in economic development.
View our timelapse of the dam construction below!
Be part of the Veramendi story
Living at Veramendi means having everything you need close at hand. The embodiment of true Texas  Hill Country living, Veramendi has over 475 acres of green space and park land, inspiring neighbors to be active and full of life. The vision for Veramendi includes the Christus Santa Rosa Medical District, an Education District in cooperation with the university campus and New Braunfels ISD, a Business District, Oakwood Church, and an Arts and Entertainment District. Large regional parks within the community bring residents closer to nature and promote health, wellness, and relaxation. And we even have plans for a resort nearby!

Amenities to appeal to the whole family
In addition to showcasing the best home builders in New Braunfels, Tx, the amenities at Veramendi will keep you entertained and delighted. Recently opened, The Ledge has a stunning 25,000 sq. ft. amenity center, a large swimming pool with sun deck, a splash pad with interactive activities for the kids, and  pavilions, lounge areas, restrooms, and a poolside kitchen with built‑in grills. The parks, pocket parks, and playgrounds found throughout the community are connected by a paved 10‑mile urban trail. Fit pods scattered along the trail provide destinations and suggestions for fitness activities. Nine miles of natural hiking trails will eventually wind through the community. Bike lanes run alongside every street, in addition to opportunities for mountain biking.
Schedule your visit to Veramendi
Contact us to schedule a personal tour of our community, meet our builders, and start your journey to becoming part of the Veramendi community.