Yearly Home Maintenance Tips Every New Homeowner Should Know About
August 25, 2020
Spring may be a ways away still but that doesn't mean we can lighten up on the home cleaning. The truth is, we should deep clean different parts of our home at the start of each season to keep our houses in pristine condition. There are certain yearly home maintenance tips that new homeowners should be aware of, so we've created a new homeowner checklist for each season!
Spring Home Maintenance Tips
Declutter – Go through every room in the house and create a donation pile and a trash pile for each room. Over the years we all begin to collect items and trinkets and we almost never assess whether or not they are still needed or being used anymore. Setting aside time to go through each room of your home and clear out all the clutter can be cathartic and productive.
Deep clean appliances – Time to wipe down your entire microwave and get every pasta drip off of it. Take out your oven racks and let them soak as you prep your oven for a deep clean. Wash your burners, your stovetop, and even the toaster.
Wash thresholds – This is important. Take time to clean the "in‑betweens" in your household. Door entryways and window wells collect dirt and debris all year round. Grab a vacuum and a bucket of soap and water and clean these spaces for a fresh start to spring.
Sweep patios, walkways – Speaking of debris, your patios, walkways, floor mats get the brunt of the buildup all year round. Although they most likely won't stay clean very long it's always a good idea to make time to deep clean these outdoor spaces.
Power wash everything – (Including those patios and walkways!) Wash the dirt of last year away (literally) by power washing your home, fence, driveway, and your outdoor mats
Deep clean carpets – Whether you own a carpet cleaner or need to rent it; spring is the best time to tackle this task! Clear your rooms out as best as you can, vacuum thoroughly, and run your carpet cleaner in each room that has carpet in it as early as you can in the morning. Then, open some windows and help the carpet dry quickly and without the stench. For more tips, check out this article from PopularMechanics on carpet cleaning secrets!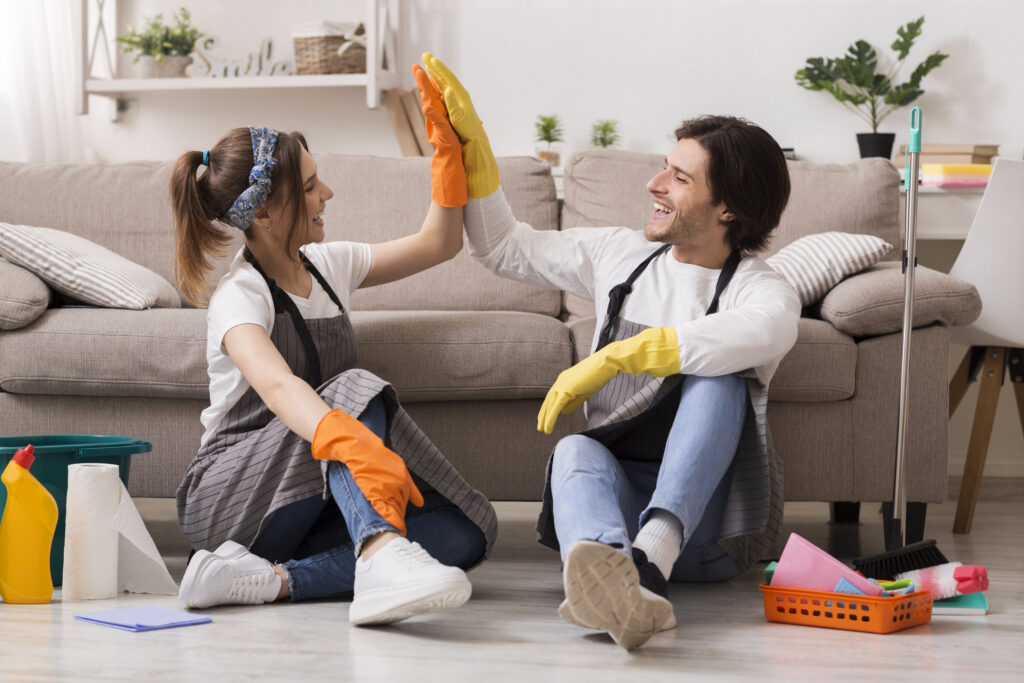 Summer Home Maintenance Tips
Wipe down ceiling fans – Maybe you haven't noticed it yet, but your ceiling fans can collect piles of dust throughout the year which weighs them down. Be sure to dedicate time to cleaning them in the beginning summer months so that they run more efficiently. Additionally, make sure your ceiling fans are rotating counterclockwise so that they push the air straight down creating a nice summer breeze.
Vacuum registers and vents – Keep that electric bill down by making sure everything flows smoothly through your house
Clean windows and window screens – Take a bucket of liquid dish soap mixed with cool water and clean both your windows and window screens with it. Wipe windows dry with a rubber‑blade squeegee for best results!
Clean out your grill – Before you invite everyone over for a barbeque, be sure your grill is in pristine condition. Burn off extra trimmings from last grilling season, sweep out the bed of the grill, and coat your grill if necessary.
Refresh your mulch – You can keep the weeds out and help your plants retain any moisture they get in the scorching heat of the Texas summer by laying down a fresh bed of mulch at the beginning of the summer.
Invest in a clothesline – We're not here to tell you what things new homeowners need to buy but we highly recommend purchasing a clothesline or portable drying racks so that you can take advantage of the Texas heat and save on energy by not running your dryer as often. After all, who doesn't love the smell of wind‑dried laundry?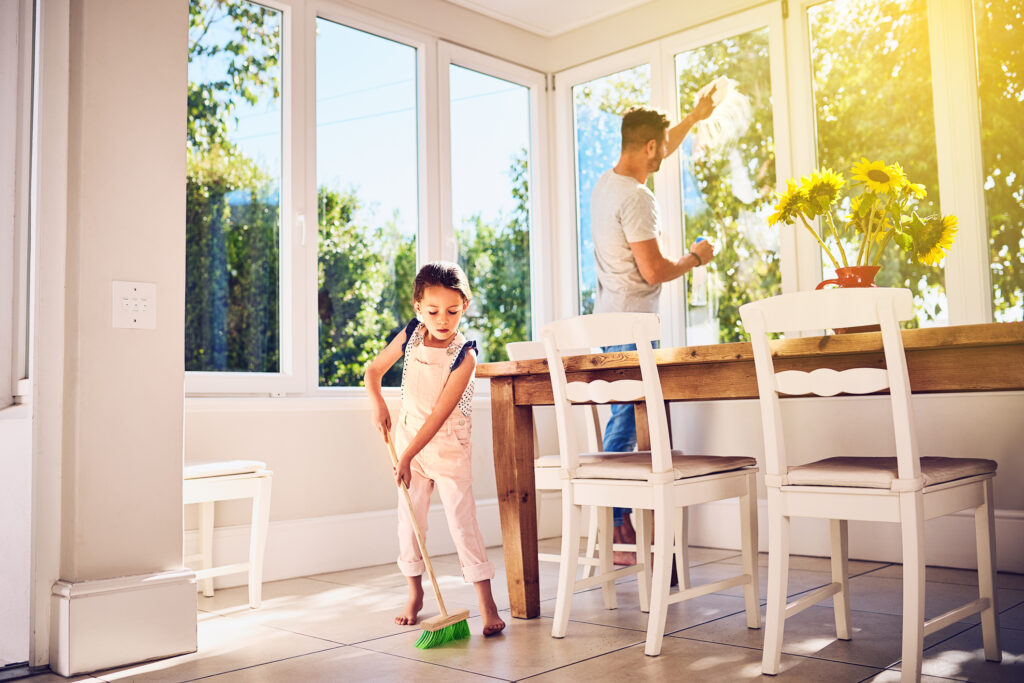 Fall Home Maintenance Tips
Check your roof and attic – With spring still a ways away and winter coming up there's no better time to check your attic for leaks/cracks in the roof. While you're already in the attic be sure to look out for pests, mold, or mildew and treat those as well.
Reverse your fans – summer is over so it's time to adjust your fans to turn clockwise. Doing so will help your ceiling fans circulate warm air. While you're up there be sure to dust off those fan blades again for the upcoming season!
Drain your hot water heater – Sediment can build up in your hot water heater and interfere with heat transfer and reduce heater efficiency. Flush your water heater annually to help it run longer and more efficient.
Clean out gutters and downspouts – These elements of the house need to be cleaned regularly to ensure they're working properly. Clogged gutters can cause major damage to your house like a leaky roof or water damage. They can also quickly become homes for pests, rodents, and mold if not cleaned properly.
Check weather seals – Although Texas winters aren't as rough as those up North you should still check your garage door and exterior house doors to make sure their weather seals are undamaged and working proficiently to ensure there are no air leaks. This will help keep the warm air inside in the winter and cool air in well, in every other season in Texas.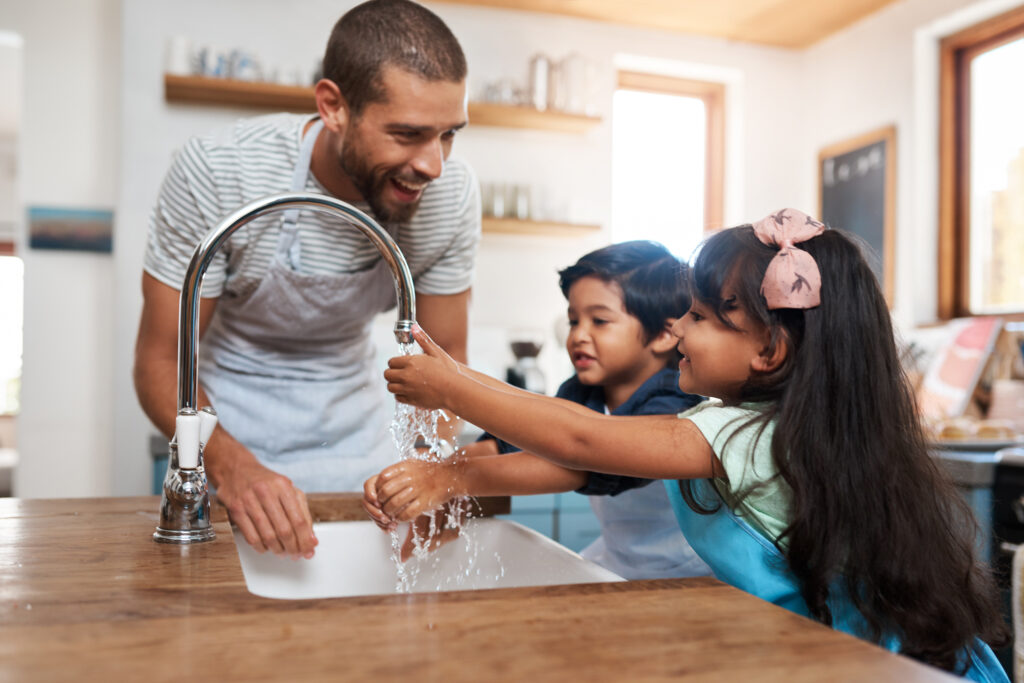 Winter Home Maintenance Tips
Clean circuit breaker – Your circuit box can quickly fill with dust, dirt, and other debris. Which can cause fluctuation in the power supply and lead to increased electrical bills, blown fuses, and even electrical fires. To clean your breaker box wipe everything down with a dry rag. For hard to reach residue sticking to your breaker box dampen your rag with a bit of rubbing alcohol and wipe  While you're in there be sure to organize your breaker box. Most breaker boxes come with some sort of label sticker for the homeowners to utilize. Take the time to determine what each breaker switch controls and label your box accordingly.
Test electrical outlets – Make sure all of your outlets are functioning properly by plugging something into each one and making sure your item works (we suggest taking your phone and charger around to each outlet to see if plugging your charger in emits a charge to your phone). For outlets that don't work be sure to make sure that that outlet isn't linked to a switch. If that's not the case, check your breaker box to see if any switch has flipped. A GFCI outlet might need pressing the reset button in between the two outlets. If all of those options don't work, you'll need to contact an electrician. Home wiring is complex and dangerous to work with if you are not a professional so don't try to do this on your own.
Inspect fire extinguishers – Make sure your fire extinguisher is in a visible location everyone can gain access to. Verify the locking pin is intact, the pressure gage is operable, the directions are legible. Examine the extinguisher to make sure there is no physical damage, leakage, or corrosion. Lastly, pick up the fire extinguisher to ensure it is still full.
Clean range hood fan – Use a damp cloth to remove grease, dirt, and food spatter off the inside and outside of your range hood. Cleaning your range hood can extend its lifespan and the efficiency of the hood in general.
Check caulking around showers and bathtubs – While deep cleaning the caulk in your bath and shower is always a good idea be sure to check to see if the caulk is beginning to lift, collecting mold, or is broken. If this happens water can begin to penetrate the walls which could cause major damage in the future. If your caulk is beginning to lift, it's time to remove the old caulk and lay down a new set.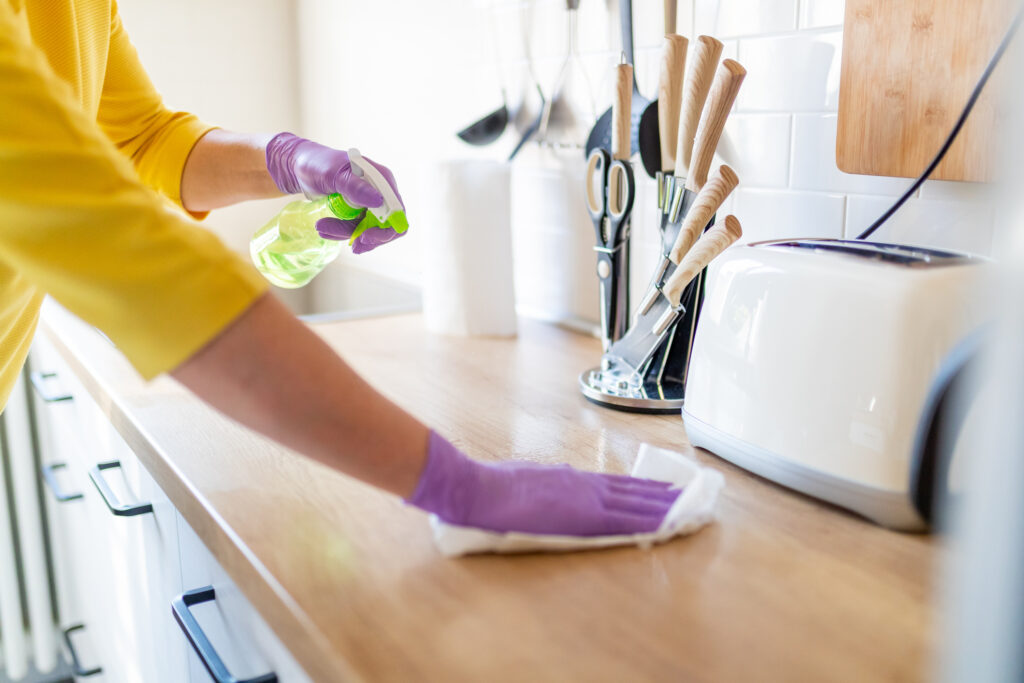 Every Season Maintenance Tips
There are a few tasks that you can add to your chores for every season:
Replenish any aid kits – It seems like this year has been one for the book in terms of emergencies. Be sure to check your aid kits at the beginning of every season and replenish what you used! It's also a great time to assess your emergency supplies and replace any old or expired items.
Changing the filters – Every. Single. Filter… vent filters, vacuum filters, washing machine filters, air conditioning filters, and furnish filters. Talk about money‑saving tips for new homeowners. Changing the filters on each of these appliances can keep them working efficiently and help you save on your electric bill (especially in the summer and winter).
Check your home detectors – Smoke detectors and carbon monoxide detectors need to be checked on a seasonal basis to ensure you and your family are warned in case of those emergencies. Test your detectors at the beginning of each season and replace the batteries when necessary.
Clean out the fridge – Your fridge stays busy every season and thus should be cleaned multiple times a year. And we mean deep cleaned. Empty out your fridge, wash the shelves and the drawers, and defrost and sanitize the freezer.
Clean garbage disposal – Cleaning your disposal on a regular basis helps remove foul odors and keep your drains clear.
Remember, you certainly don't have to tackle all of these new homeowner checklists items in the first week of the new season. You can spread them out over the entire season to lighten the load!
These yearly home maintenance tips are meant to be a guide for new homeowners to help your home run efficiently for years to come. So be sure to take the time to care for your new home. Contact our sales office today to schedule an in‑person or virtual tour on our available homes today!