The Ledge: A Cut Above Ordinary New Braunfels Community Amenities (NOW OPEN)
August 24, 2021
We're excited to announce the opening of the newest of our New Braunfels community amenities. Known as The Ledge and anchored by a breathtaking swimming pool, is a beautiful place to gather with friends and family to relax, refresh, and fully enjoy the Veramendi lifestyle.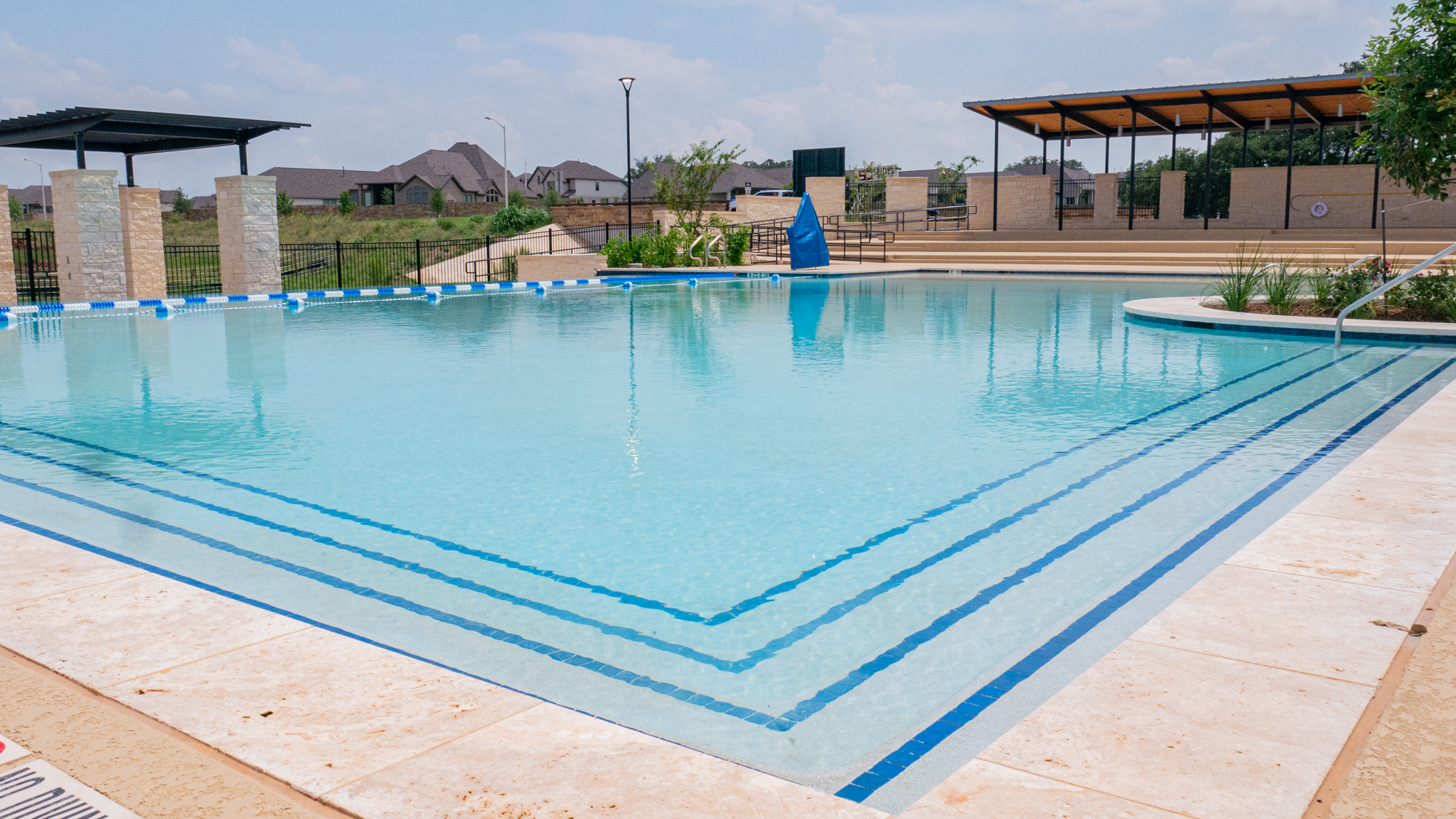 Amenities Done the Veramendi Way
When you experience The Ledge, it becomes clear that Veramendi goes way beyond any other New Braunfels community with a pool. That's just one example of what you can expect when you choose this New Braunfels master‑planned community – exceptional attention to detail and a commitment to delivering more than expected.
Here's an overview of what you'll enjoy at The Ledge:
The amenity center spans 25,000 sq. ft.
The stunning swimming pool has plenty of room to swim laps or cool off on a hot summer day.
The expansive sun deck is the perfect place to catch some rays or keep an eye on the kiddos.
And speaking of kiddos,

The Ledge has a splash pad ready for them to enjoy!

Fire up one of the built‑in grills at our poolside kitchen for a family barbecue.
The Ledge also has pavilions, lounge areas, and convenient restrooms.
Both vibrant with energy and peaceful with calm, The Ledge has something for everyone who lives at Veramendi.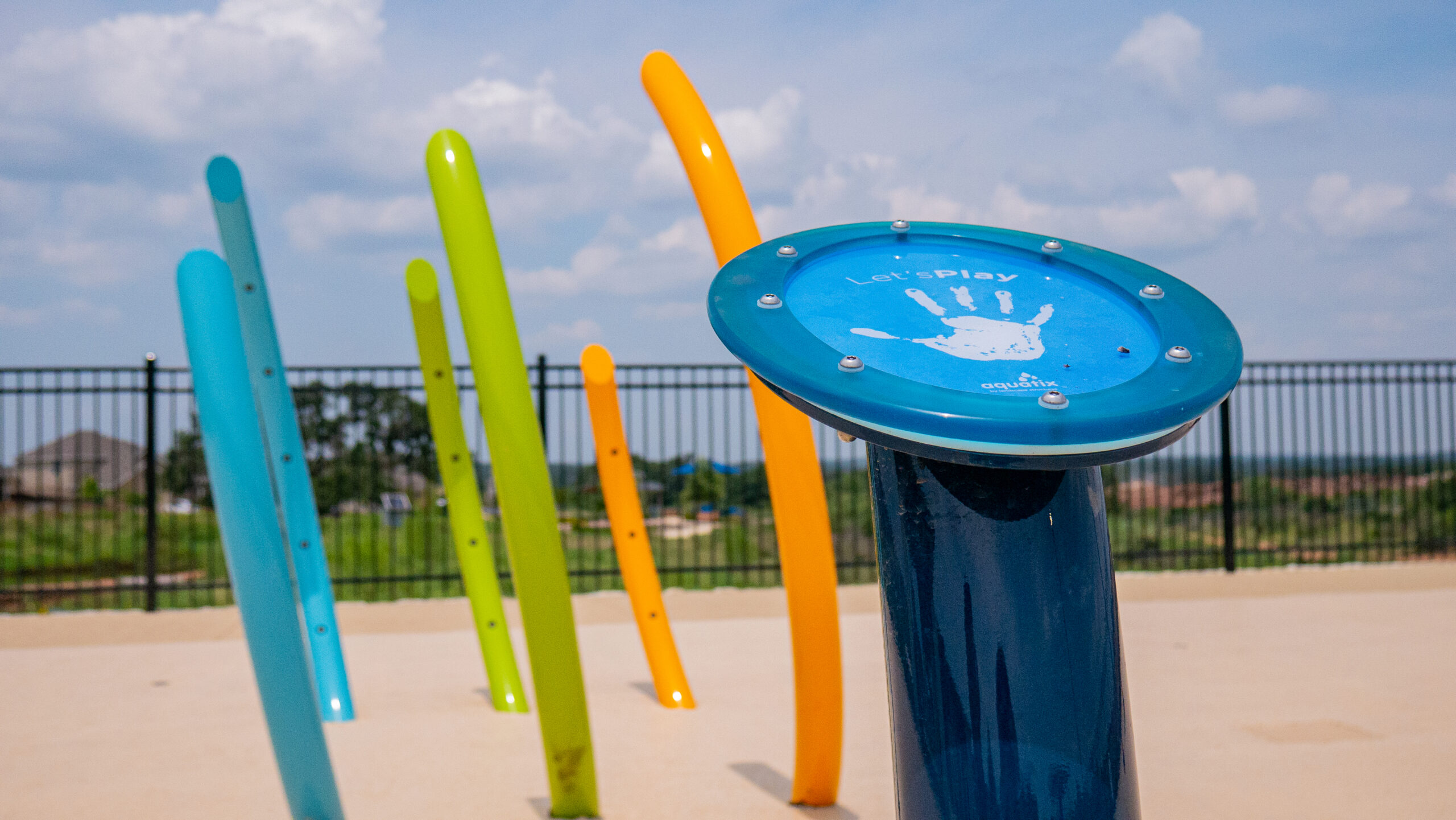 Explore Veramendi's Other Amenities
We're far from finished making Veramendi an exceptional place to live! A fourth pocket park is slated to be complete this month – great for a quick picnic or just a break to get some fresh air. A paved 10‑foot wide urban trail winds through the community, connecting all the parks, and playgrounds. Veramendi has plans for fit pods scattered along the trail with prompts for fitness activities. At completion, Veramendi will have 480 acres of green space and parkland. And nine miles of natural hiking trails will eventually wind through the community. Bike lanes run alongside every street, in addition to opportunities for mountain biking.
Every resident of Veramendi will have a variety of ways and places to feel connected to nature.
Naturally Inviting – for Everyone
While it's not technically an amenity, there's no denying the beauty of the Hill Country that surrounds Veramendi. Bleiders Creek Greenbelt, an offshoot of the Comal River, is close enough to escape to when you just need to getaway. Opportunities for hiking and exploring are just minutes away.
Rooted in History, Poised for the Future
There's just no place like New Braunfels. Everywhere you look you'll see influences of the German settlers who discovered this land hundreds of years ago – the Bavarian restaurants, the breweries, the festivals, and the music. The oldest dance hall in Texas, Gruene Hall, is a ten‑minute drive, waiting for you to kick up your heels and enjoy both local and national music acts.
And while New Braunfels celebrates its history, its eyes are firmly on the future. The number of jobs in the area is predicted to grow by 46.5% over the next ten years. Excellent healthcare, schools, and shopping are all easily within reach of Veramendi.
New Braunfels New Construction Homes
We want Veramendi to be a community where everyone feels at home – and where everyone can find a home that fits both their style and their budget. So we did a great deal of research to find the best builders in the area, and to ensure that they're aligned with our commitment to giving every homeowner at Veramendi an exceptional experience.
Prices for new homes at Veramendi start in the $300s, and range up to the $700s. Start your search online in our Virtual Model Home park, or just tell us what you're looking for in your new home and let us do the legwork. In the meantime, here's a quick look at our hand‑selected builders.
Gehan Homes – from the mid‑$300s. Gehan Homes is consistently recognized for exceptional design, with awards that include the 2017 Texas Association of Builders STAR Award for Volume Builder of the Year, 2013 PRISM Award for Best Product Design, and five 2016 STAR Awards. 11 floor plans from 1,400 sq. ft. – 2,300 sq. ft. 3 to 4 bedrooms, 2 to 2.5 baths, 2‑car garages.
Pulte Homes – from the upper $300s. With homes designed for how you live, backed by a warranty you can rely on, the Pulte difference is clear. Pulte Homes has streamlined the process to make it easy for you to build the home you've always wanted. 7 floor plans from 1,739 sq. ft – 3,281 sq. ft. 3 to 5 bedrooms, 2 to 4.5 baths, 2‑car garages.
David Weekley Homes – from the $410s. David Weekley Homes was the first builder in the United States to be awarded the Triple Crown of American Home Building, an honor which includes "America's Best Builder," "National Housing Quality Award" and "National Builder of the Year." 7 floor plans from 2,249 sq. ft. – 3,332 sq. ft. 3 to 5 bedrooms, 2 to 4.5 baths, 2‑car garages.
Perry Homes – from the $460s. Perry Homes' success is largely due to the company's founding values we still uphold today: Commitment to Quality, Exceptional Customer Service, Trusted Reputation, Industry Leading Warranty Protection, Homes Designed for Living and Unbeatable Value. 41 floor plans from 1,800 sq. ft. to 3,200. 3 to 4 bedrooms, 2 to 3 bedrooms, and 2‑ or 3‑car garages.
Scott Felder Homes – from the high $400s. Scott Felder Homes has risen through the ranks to become one of the largest producers of quality, move‑up homes in Austin and San Antonio. 11 floor plans from 2,204 sq. ft. – 3,268 sq. ft. 2 to 5 bedrooms, 2 to 4 baths, 2‑car garages.
Ready to explore the Veramendi lifestyle?
We're ready to help you find the perfect builder for your new home at Veramendi – just get in touch! You'll be part of our community, enjoying our New Braunfels community amenities, before you know it.